Join forces with other tank commanders to earn rewards, including a rare Cold Steel tank!
Thanksgiving is a holiday that's celebrated around the world in different ways and at different times of the year. In the United States, it's observed on the fourth Thursday in November as a day filled with gratitude, togetherness, and as much good food (especially turkey, lots of turkey) as possible.
Join us as we say thanks to you, our community, and get ready for this year's festivities with a Thanksgiving Community Event!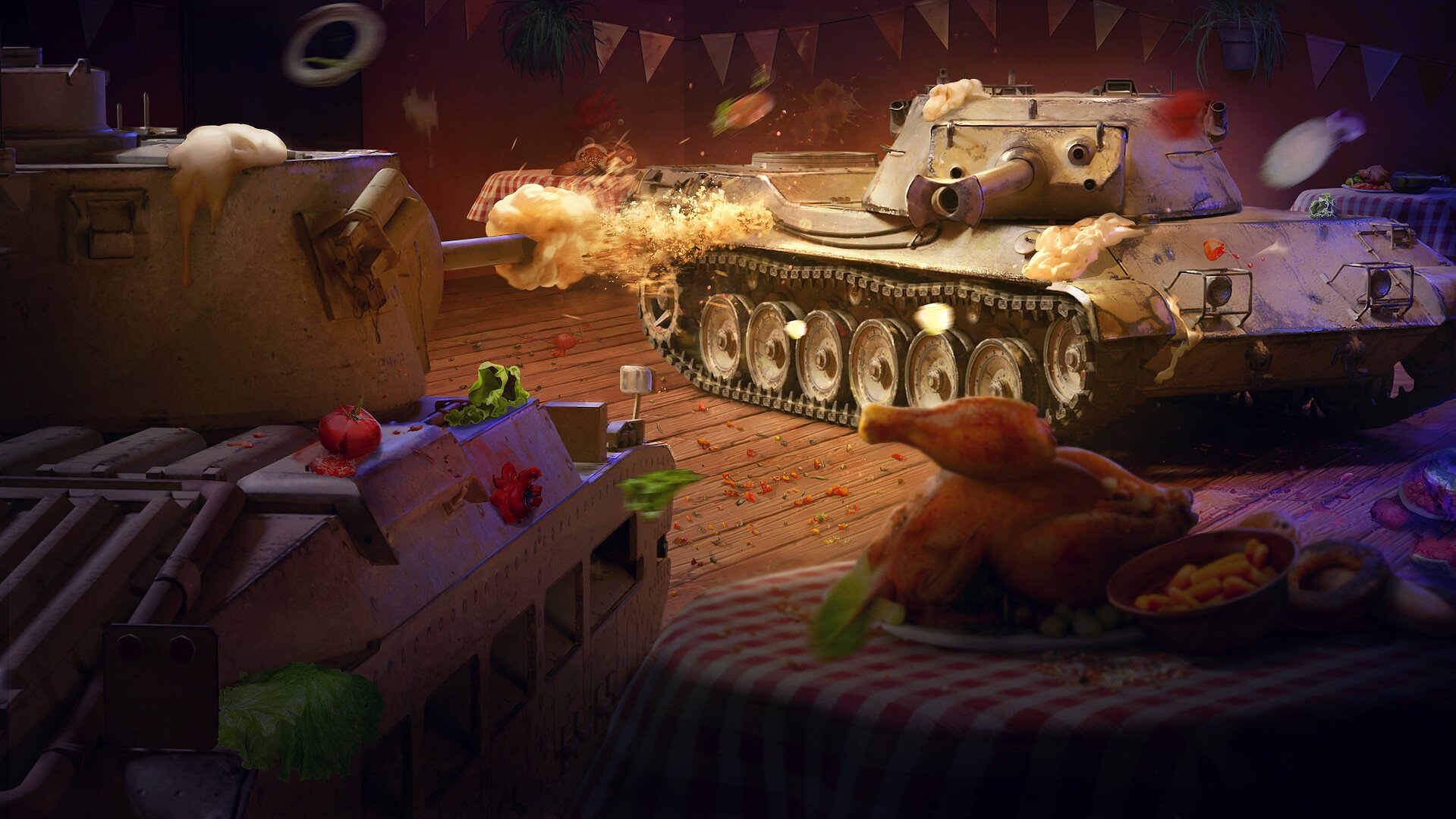 Because this is a Community Event, you'll be working with other players to finish stages in a chained Challenge. The great part about that is that when the entire community completes a stage… the entire community also receives the reward!
This Challenge has nine stages. At the end of Stage IX is the ultimate prize: the Swedish Tier VIII Earthshaker Strv 102 Medium Tank, one of the three vehicles in the Cold Steel collection. If you want a tank with serious firepower that will level up your Commanders in no time, this is the vehicle for you.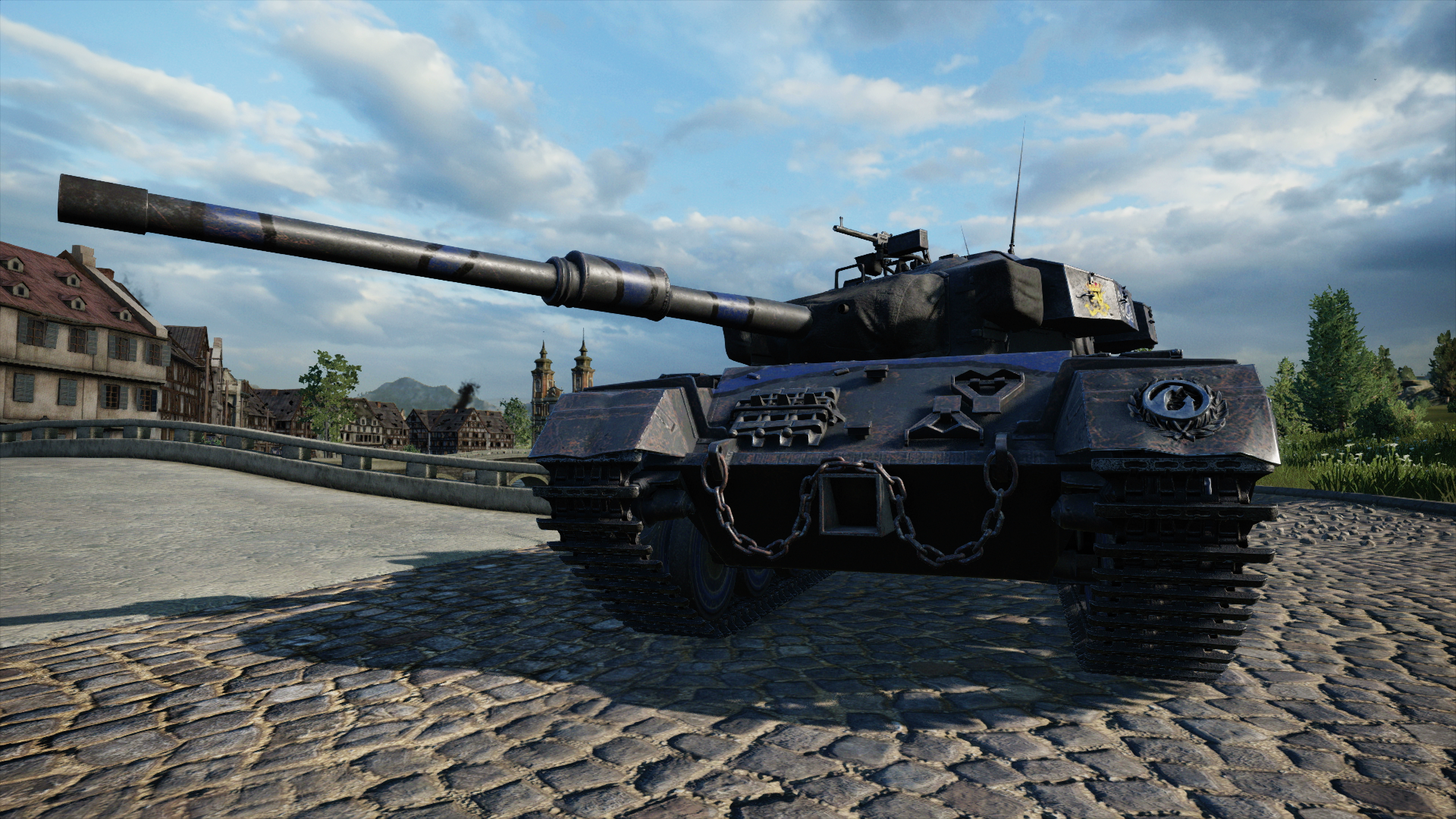 To complete the stages, you'll need to get out there and hunt turkeys, a.k.a. earn points, in Multiplayer battles.
Your main way of earning points is winning battles each day:
Thanksgiving Points Earn
GOAL
REWARD

Get a First Win with 3 different tanks

Available once per day
Resets daily
World War II: Available to all Tiers
Cold War: Available to all Eras
Available to Multiplayer only (excludes Co-Op)
And just as there always seems to be another helping of mashed potatoes to heap onto your Thanksgiving dinner plate, there are three other goals that you can achieve to earn points as well:
Thanksgiving Bonus Points
GOAL
REWARD

Thanksgiving Assist



Assist in 350 or more damage in a battle

Thanksgiving Destroy



Destroy 1 or more vehicles in any number of battles

Thanksgiving Survive



Survive a battle in which you've earned 250 or more XP

World War II: Available to all Tiers
Cold War: Available to all Eras
Available to Multiplayer only (excludes Co-Op)
Every point you receive will go toward the community's total and contribute toward completing a stage. You'll be able to keep track of the points that the community has earned with the Community Events display on the game's main start/game mode menu.
Are you ready to fill up on rewards? Then take a look below at the Challenge's details, and head out with your allies for the great Thanksgiving hunt starting on November 7th!
Please note: if you already own the Earthshaker Strv 102, then after the Challenge is completed, you will receive the tank's value in Silver (3,900,000 Silver) instead.
Thanksgiving Community Event
GOAL
REWARD

Thanksgiving I




Earn 1,000,000 total points with all players

250,000 Silver

Thanksgiving II




Earn 3,500,000 total points with all players

Premium Time – 1 Day

Thanksgiving III




Earn 7,000,000 total points with all players

Emblem: Cornucopia (4)

Thanksgiving IV




Earn 10,000,000 total points with all players

Garage Gear: Stacked Hay Bales 1 (4) - information added November 6th

x4 Commander XP Booster (2)

Thanksgiving V






Earn 13,000,000 total points with all players

Emblem: Angry Turkey (4)

x3 Vehicle XP Booster (2)

Thanksgiving VI




Earn 16,000,000 total points with all players

Enhanced Repair Kit (10)

Enhanced Med Kit (10)

Enhanced Fire Suppressor (10)

100,000 Silver

Thanksgiving VII




Earn 20,000,000 total points with all players

Garage Gear: Stacked Hay Bales 2 (4) - information added November 6th

x2 Silver Booster (3)

Thanksgiving VIII






Earn 24,000,000 total points with all players

Camo: NATO 02 – Urban (3)

Camo: NATO 02 – Winter (3)

Camo: NATO 02 – Summer (3)

Camo: NATO 02 – Desert (3)

Thanksgiving IX




Earn 30,000,000 total points with all players

World War II: Available to all Tiers
Cold War: Available to all Eras
Available to Multiplayer only (excludes Co-Op)
Available once per account