Earn an easy-to-play Premium along with Consumables, Silver, Premium Time, and MORE!
Looking for your next big goal? Take on the latest Premium Contract to earn a ton of rewards and add a reliable Premium that's easy to play to your forces: the Chinese Tier VIII Legion 59-Patton Medium Tank! This tank has all-around solid weapon stats to deal reliable and consistent damage, in addition to good mobility to efficiently navigate the battlefield. It also has a unique paint job representing its U.S. and Chinese connections that provides a built-in concealment bonus.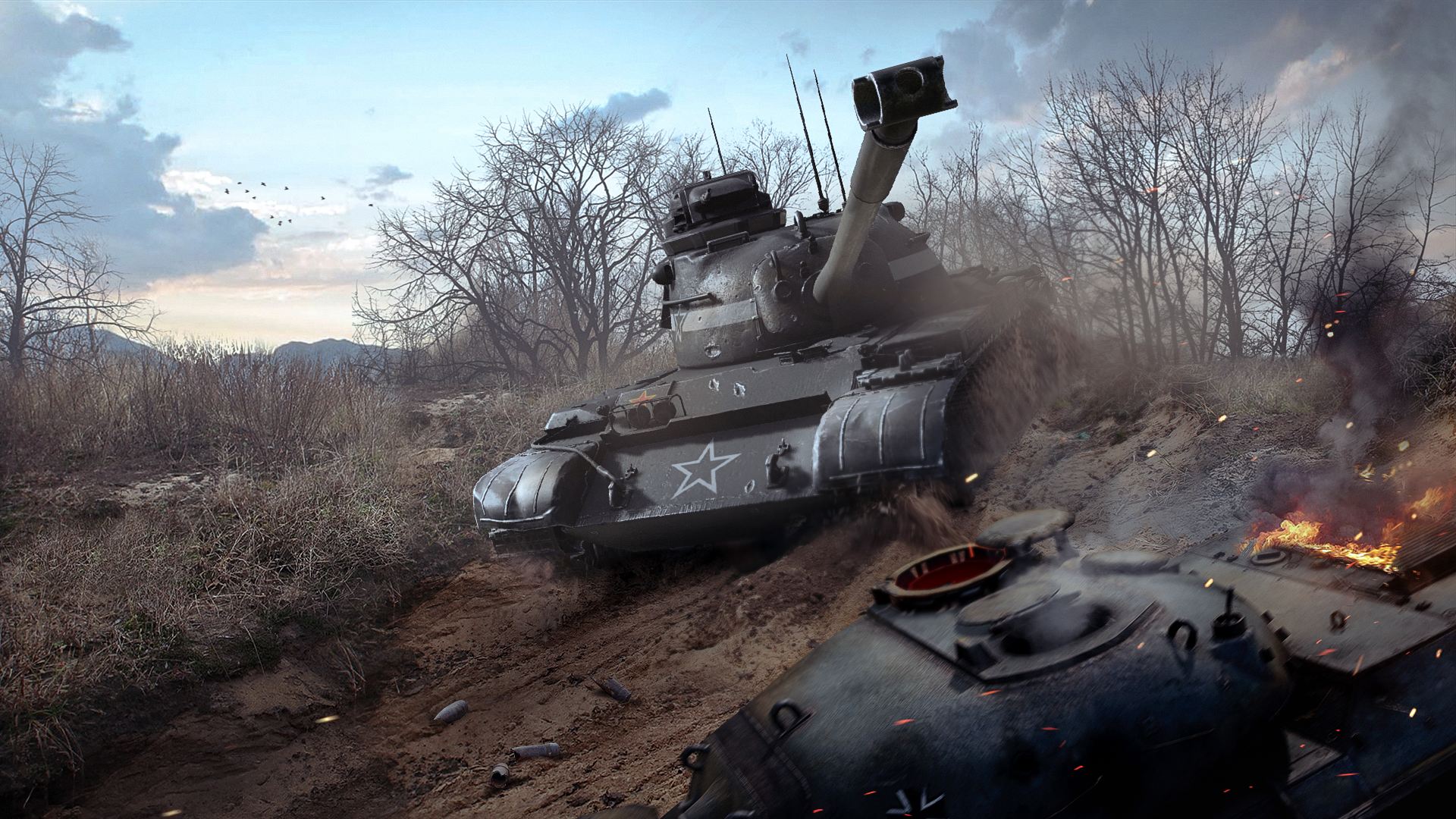 When you take on a contract, you get the chance to earn a tank by completing a series of tasks over eight stages. You'll get additional rewards along the way as you complete those stages, too. Here's what else you should know about contracts:
You can have only one contract active at a time! Once you've signed a contract, choosing a new contract will cause you to lose any progress made on the one you're currently working toward.
Certain tasks might have tier or class restrictions, but otherwise, each contract can be completed using either World War II or Cold War tanks. Choose your vehicles wisely!
You can use Gold to skip certain stages! The buyout amounts for each stage will be listed with the other contract details below. Buyouts for the Legion 59-Patton will be available through May 22nd.
Read on for all the contract details, and head to the "Contracts" tab in game to sign up to earn this tank! Note: Upon completing the contract, if you already own the Legion 59-Patton, you'll receive its value in Silver (3,920,000 Silver) instead.
Legion 59-Patton: Stage 1
GOALS

Win a battle

Earn 2,400 or more XP in any number of battles

REWARDS

Med Kit (2)

Repair Kit (2)

Fire Suppressor (2)

RESTRICTIONS

World War II mode: Available to Tiers III – X

Cold War mode: Available to all Eras

Available to multiplayer only

Available once per contract signing
Legion 59-Patton: Stage 2
GOALS

Win a battle

Place in the top 5 XP earners on your team in a battle

Earn 3,600 or more XP in any number of battles

REWARDS

x1.25 Silver Booster (2)

2,400 Silver

RESTRICTIONS

Must play light tanks or medium tanks

World War II mode: Available to Tiers V – X

Cold War mode: Available to all Eras

Available to multiplayer only

Available once per contract signing
Legion 59-Patton: Stage 3
GOALS

Detect 1 or more vehicles and destroy 1 or more vehicles in 2 battles

Destroy 5 or more vehicles in any number of battles

Earn 8,400 or more XP in any number of battles

REWARDS

Med Kit (1)

Repair Kit (1)

Fire Suppressor (1)

x1.25 Silver Booster (1)

x2 Vehicle XP Booster (2)

18,200 Silver

RESTRICTIONS

Must play medium tanks

World War II mode: Available to Tiers V – X

Cold War mode: Available to all Eras

Available to multiplayer only

Available once per contract signing
Legion 59-Patton: Stage 4
GOALS

Assist with spotting damage totaling at least 2,300 in any number of battles

Destroy 1 or more light tanks or medium tanks in any number of battles

Earn 16,800 or more XP in any number of battles

REWARDS

Enhanced Med Kit (1)

Enhanced Repair Kit (1)

Enhanced Fire Suppressor (1)

x1.5 Silver Booster (2)

x2 Vehicle XP Booster (1)

31,600 Silver

RESTRICTIONS

Must play medium tanks

World War II mode: Available to Tiers V – X

Cold War mode: Available to all Eras

Available to multiplayer only

Available once per contract signing
Legion 59-Patton: Stage 5
GOALS

Deal 33,000 or more damage in any number of battles

Assist with spotting damage totaling at least 1x your maximum health in a battle

Earn 37,200 or more XP in any number of battles

REWARDS

Premium Account Time – 3 Days

Enhanced Med Kit (1)

Enhanced Repair Kit (1)

Enhanced Fire Suppressor (1)

x1.5 Silver Booster (1)

44,800 Silver

RESTRICTIONS

Must play medium tanks

World War II mode: Available to Tiers VI – X

Cold War mode: Available to all Eras

Available to multiplayer only

Available once per contract signing
Legion 59-Patton: Stage 6
GOALS

Destroy 5 or more vehicles in any number of battles you have received damage in

Earn 78,000 or more XP in any number of battles

REWARDS

Enhanced Med Kit (1)

Enhanced Repair Kit (1)

Enhanced Fire Suppressor (1)

808,000 Silver

RESTRICTIONS

Must play medium tanks

World War II mode: Available to Tiers VI – X

Cold War mode: Available to all Eras

Available to multiplayer only

Available once per contract signing
Legion 59-Patton: Stage 7
GOALS

Destroy 115 or more vehicles in any number of battles

Assist with spotting damage totaling at least 23,600 in any number of battles

Earn 169,200 or more XP in any number of battles

RESTRICTIONS

Must play medium tanks

World War II mode: Available to Tiers VIII – X

Cold War mode: Available to all Eras

Available to multiplayer only

Available once per contract signing
Legion 59-Patton: Stage 8
GOALS

Earn 362,400 or more XP in any number of battles

RESTRICTIONS

Must play medium tanks

World War II mode: Available to Tiers VIII – X

Cold War mode: Available to all Eras

Available to multiplayer only

Available once per contract signing
Legion 59-Patton: Stage Buyout Amounts – Available through May 22nd
Stage 1 – 45
Stage 2 – 100
Stage 3 – 215
Stage 4 – 465
Stage 5 – 1,005
Stage 6 –  2,170
Stage 7 –  4,685
Stage 8 –  10,100