For the first time in the history, the mascot Vic Rattlehead will reveal its voice and be immortalized as a video game character.
August 16th, 2023 - Wargaming is proud to announce an electrifying collaboration with iconic metal band Megadeth!
The in-game music event Metal Fest kicked off in World of Tanks Modern Armor on August 15th, with legendary band Sabaton shaking the game's foundations as the opening act.
Starting on August 28th, Megadeth will join the Metal Fest lineup and bring its thunderous power to four popular Wargaming titles: World of Tanks Modern Armor, World of Tanks Blitz, World of Warships, and World of Warships: Legends.
Among the new Megadeth content awaiting fans and players will be exclusive voiceover by Dave Mustaine (the frontman of Megadeth), James LoMenzo, Dirk Verbeuren, and Kiko Loureiro, along with an array of Megadeth-branded in-game items including tanks and warships, in-game missions and quests, integrated songs, and much more.
The highlight of this collaboration is the inclusion of the band's iconic mascot, Vic Rattlehead, who will be making his debut appearance in video games with an incredible 3D representation and unique voiceover.
"This is the first time our images have been immortalized in video games! Moreover, our mascot has unleashed its own roaring voice, adding even more metal mayhem to the games. We've laid down over 350 mind-melting voice lines, and players will feel the thunder as we command during the battles. We have tanks, we have warships, and we are ready for Metal Fest!" said Dave Mustaine, the frontman of Megadeth.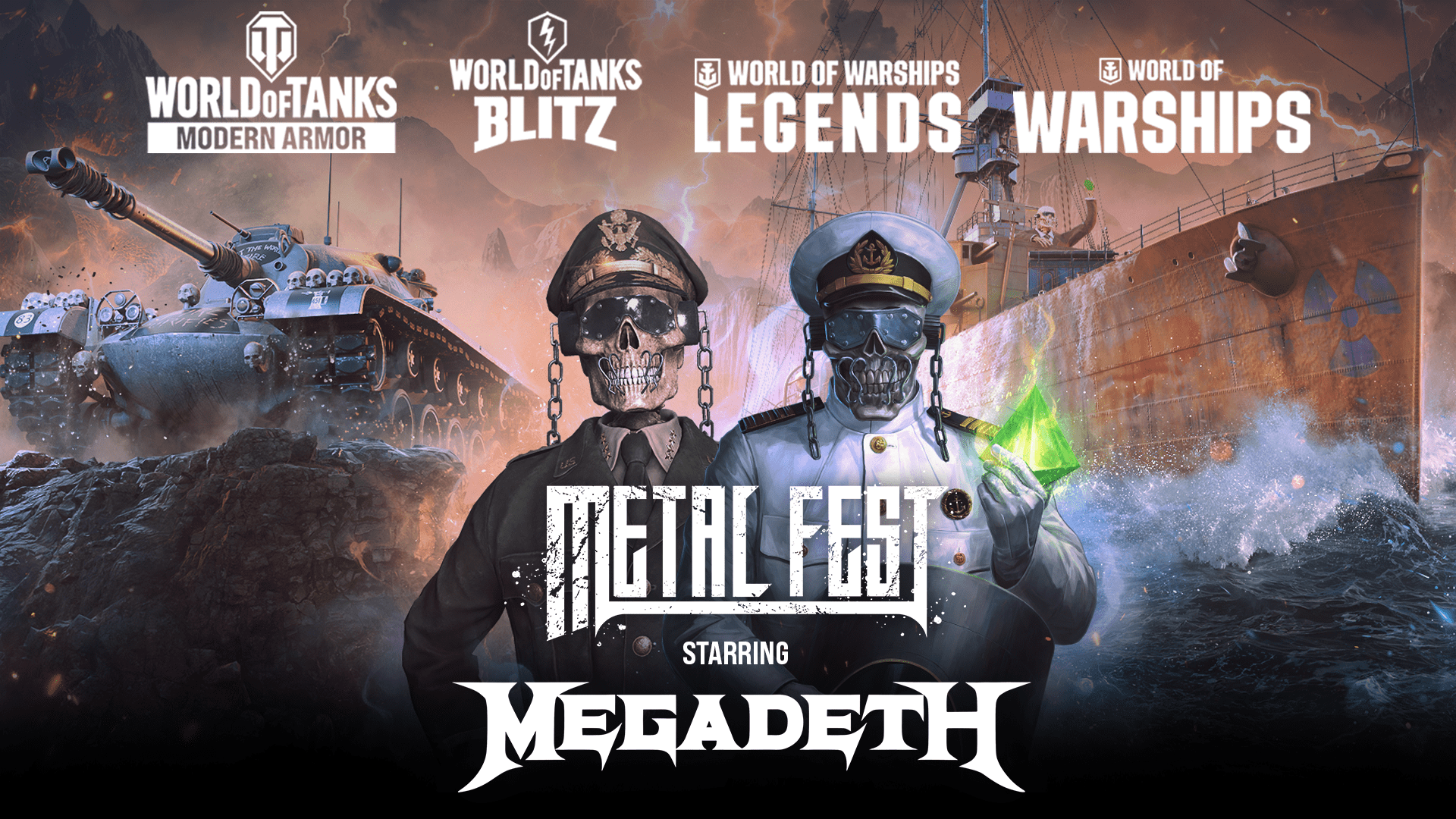 Megadeth's content in World of Tanks Modern Armor will be available starting Tuesday, August 29th:
By completing Challenges, players will unlock various Megadeth-themed rewards.
Two new tanks inspired by the albums Peace Sells…but Who's Buying? and The Sick, The Dying… and the Dead! will make their debut in the Store.
Vic Rattlehead will appear as an exclusive 3D Commander.
Dave Mustaine, James LoMenzo, Dirk Verbeuren, and Kiko Loureiro will be added as 2D Commanders, all with their own unique voiceover.
Tankers will enjoy two Megadeth songs ("Soldier On!" and "Peace Sells") in the garage if they own the Megadeth tanks, fueling the adrenaline of battle with pure rock power.
For more information on each game's content, visit the official Metal Fest website:
Full details will be available here on the World of Tanks Modern Armor website closer to August 29th. Until then… soldier on!
Megadeth® is a federal registered trademark of Dave Mustaine, used with permission.
Sabaton ® © Copyright 2023, Stuffed Beaver Ltd. All rights reserved.
The name Sabaton, the Sabaton logo, and all associated logos, music, lyrics, illustrations, images, names, characters, and artwork, and the distinctive likeness thereof, are protected by applicable copyright and trademark laws and used under license.