You have until the server restart on Tuesday, September 26th, to get all the rewards you can from Flames of War, including pass content. Keep the fire burning!
The season isn't over until the flames burn down to embers. Do you have it in you to make one last push, Commander?
The Flames of War season concludes with next Tuesday's server restart. That means that you have a few more days to earn points, complete as many levels as possible (or use stage buyouts), and get your rewards and post-season bonuses.
It's also your last chance to earn a 20% discount on the forthcoming Calliope T34 for completing Flames of War. This is one of the stackable discounts that you can earn as part of the six-season Resolutions event – click here for more info.
You can even still grab a Season Pass or Ultimate Season Pass from the Store if you haven't gotten one yet. Get one and make the most of the season's last days!
Here's a graphic with a summary of everything you can acquire: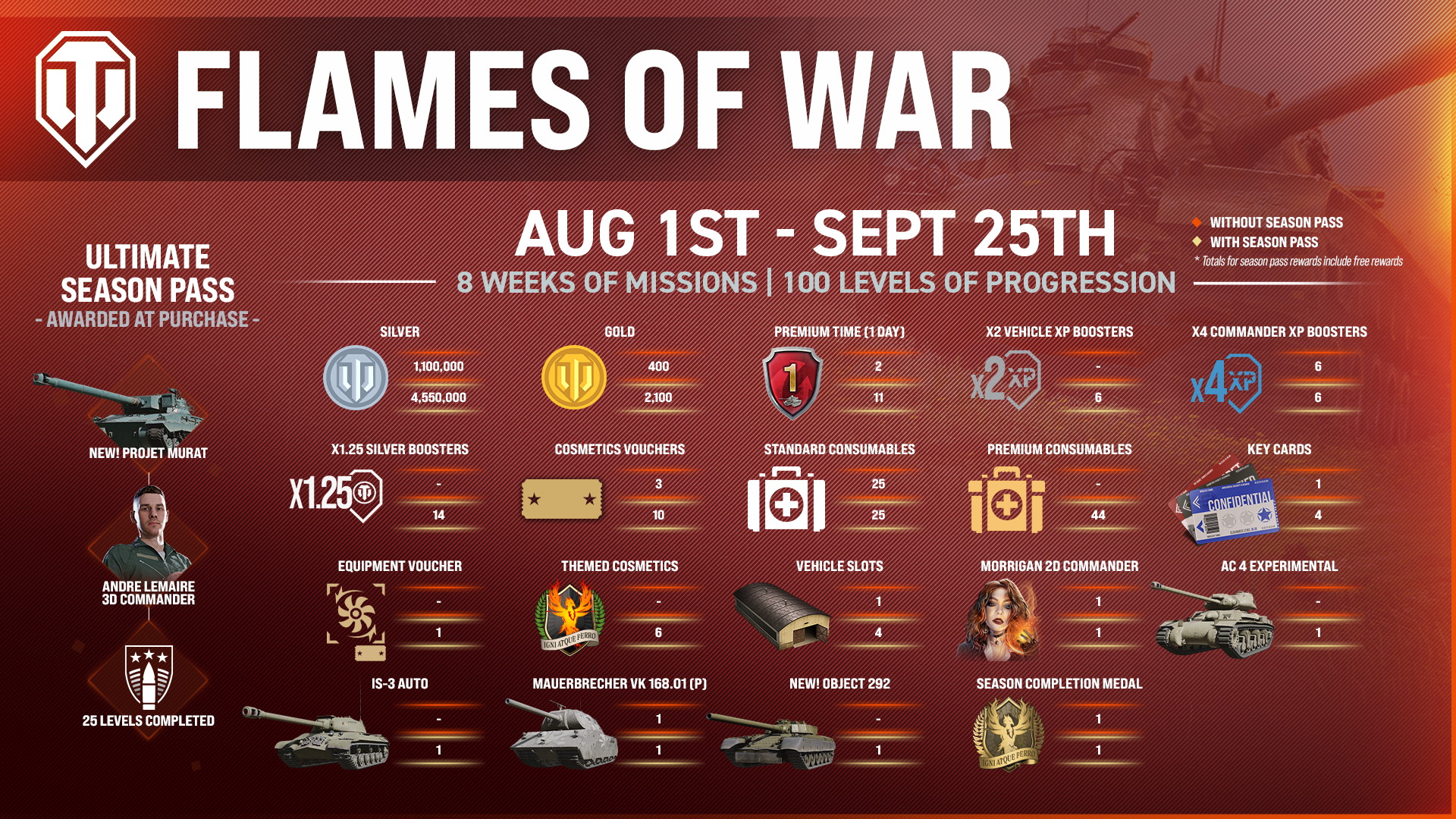 And take a look at the highlights from each reward path below:
Rewards every few levels (includes Silver, Gold, Boosters, Premium Time, and more)
Morrigan 2D Standard Commander (with two open Skill slots) at Level 75
German Tier VIII Mauerbrecher VK 168.01 (P) Heavy Tank upon completing Level 100
Flames of War Season Medal upon completing Level 100
Automatically available for FREE to all players!
All rewards from the Free Rewards path
Additional rewards at EVERY LEVEL!
Rise from the Ashes Inscription Voucher at Level 3
Flaming Skull Emblem Voucher at Level 7
British Tier VI AC 4 Experimental Medium Tank at Level 25
Hot Pepper Emblem Voucher at Level 43
Phoenix Emblem Voucher at Level 53
Teletank Fire! Emblem Voucher at Level 71
Soviet Tier VIII IS-3 auto Heavy Tank at Level 75
Flames of War Season Emblem Voucher at Level 83
NEW! Object 292 Détente Era (Era 3) Eastern Alliance Heavy Tank at Level 100
Enough Gold to cover the next 2,000 Gold Season Pass
Available for 2,000 Gold in the Store
All rewards from the Free Rewards path
All rewards from the Season Pass path
25 levels already completed
Andre Lemaire 3D Standard Commander - awarded at purchase
NEW! French Tier X Projet Murat Medium Tank - awarded at purchase
Available for 6,000 Gold in the Store
REMEMBER: If you got the regular Season Pass but later decided that you want to upgrade to the Ultimate Season Pass, you can head to the in-game Store and use the Upgrade to Ultimate option available for 4,000 Gold.
Completing all 100 levels of Flames of War will also grant you bonuses in battle for the last few days of the season. Details below:
| | |
| --- | --- |
| | Receive a +25% Vehicle XP bonus on every multiplayer battle for the rest of the season |
| Complete 18 additional levels (earn 90 additional points) after Level 100 | Receive a +25% Commander XP bonus on every multiplayer battle for the rest of the season |
| Complete 24 additional levels (earn 120 additional points) after Level 100 | Receive a +25% Silver bonus on every multiplayer battle for the rest of the season |
Additionally, don't forget that you also have the option to skip levels for Gold and claim rewards even faster, whether you have one of the Season Passes or you're on the Free Rewards track.
Here's how to do it:
Highlight the level you want to skip and press "A" (Xbox) or "X" (PS) to skip the level.
You can skip one, multiple, or all levels. The Gold cost will be based on how many levels are being skipped.
Level buyouts are 250 Gold per level. There will be NO season overtime or opportunity to skip levels after September 25th.
Battle with fire and iron!