A well-executed maneuver will make all the difference in battle; you can achieve much when you put the right tank in the right place at the right time.
Ready to test that theory? Then sign the latest Mercenary contract to work toward the Mercenary Tier VI SpyGlass Light Tank and get additional rewards on your way to the top.
When you take on a contract, you get the chance to earn a tank and a 2D Standard Commander by completing a series of tasks over eight stages. You'll earn additional rewards as you complete each stage, including Consumables, Silver, XP Boosters, and even Premium Time.
This time, the tank you can work toward is SpyGlass. It may look unimposing, but that's exactly how it likes it. The SpyGlass's mobility is second to none, and it also comes with a four-shot autoloader capable of good burst damage for its tier. Set up your ambush, wait for the enemy to pass, then proceed to unload your clip at point-blank range before falling back to safety.
Good tank for ambushes
Well-suited for passive and active scouting
Can play the support vehicle when needed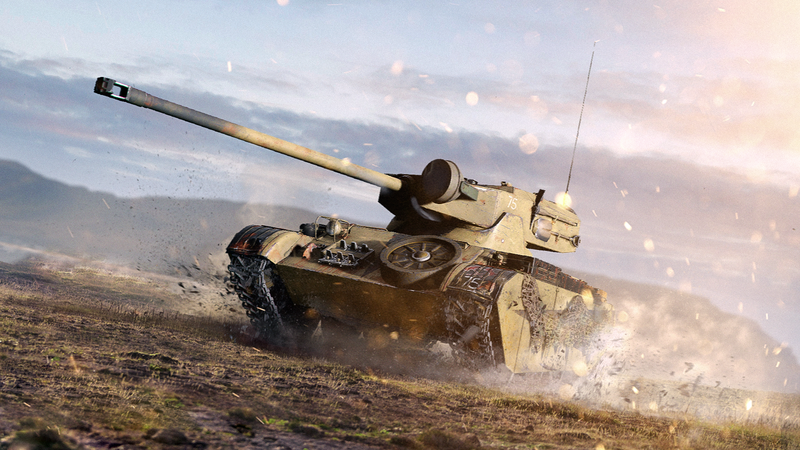 Here's what else you should know about contracts:
You can have only one contract active at a time! Once you've signed a contract, choosing a new contract will cause you to lose any progress made on the one you're currently working toward.
Certain tasks might have tier or class restrictions, but otherwise, each contract can be completed using either World War II or Cold War tanks. Choose your vehicles wisely!
You can use Gold to skip certain stages! The buyout amounts for each stage will be listed with the other contract details below. Buyouts for SpyGlass will be available through May 15th.
Sounds good? Then read on for the contract's details, and head to the "Contracts" tab in game to sign up to earn this tank!
Note: Upon completing the contract, if you already own SpyGlass, you'll receive its value in Silver (948,000 Silver) instead.
SpyGlass: Stage 1
GOALS

Win a battle

Earn 1,200 or more XP in any number of battles

REWARDS

Med Kit (1)

Repair Kit (1)

Fire Suppressor (1)

1,000 Silver

RESTRICTIONS

World War II mode: Available to Tiers IV - X

Cold War mode: Available to all Eras

Available to multiplayer only

Available once per contract signing
SpyGlass: Stage 2
GOALS

Win a battle

Place in the top 8 XP earners on your team in a battle

Earn 2,400 or more XP in any number of battles

REWARDS

x1.25 Silver Booster (1)

1,200 Silver

RESTRICTIONS

Must play light tanks or medium tanks

World War II mode: Available to Tiers IV - X

Cold War mode: Available to all Eras

Available to multiplayer only

Available once per contract signing
SpyGlass: Stage 3
GOALS

Destroy 1 or more vehicles in any number of battles

Land 10 penetrating hits in any number of battles

Earn 3,600 or more XP in any number of battles

REWARDS

x1.25 Silver Booster (2)

2,400 Silver

RESTRICTIONS

Must play light tanks or medium tanks

World War II mode: Available to Tiers IV - X

Cold War mode: Available to all Eras

Available to multiplayer only

Available once per contract signing
SpyGlass: Stage 4
GOALS

Assist with spotting damage totaling at least 1,000 in any number of battles

Destroy 1 or more vehicles while enemy is immobilized in any number of battles

Earn 7,200 or more XP in any number of battles

REWARDS

x1.5 Silver Booster (2)

1,600 Silver

RESTRICTIONS

Must play light tanks or artillery

World War II mode: Available to Tiers IV - X

Cold War mode: Available to all Eras

Available to multiplayer only

Available once per contract signing
SpyGlass: Stage 5
GOALS

Deal 13,000 or more damage in any number of battles

Assist with spotting damage totaling at least 1x your maximum health in a battle

Earn 14,400 or more XP in any number of battles

REWARDS

Enhanced Med Kit (1)

Enhanced Repair Kit (1)

Enhanced Fire Suppressor (1)

Med Kit (1)

Repair Kit (1)

Fire Suppressor (1)

x1.5 Silver Booster (1)

x2 Vehicle XP Booster (2)

1,800 Silver

RESTRICTIONS

Must play light tanks or medium tanks

World War II mode: Available to Tiers V - X

Cold War mode: Available to all Eras

Available to multiplayer only

Available once per contract signing
SpyGlass: Stage 6
GOALS

Damage 30 vehicles in any number of battles

Earn 26,400 or more XP in any number of battles

REWARDS

Premium Account Time – 3 Days

26,000 Silver

RESTRICTIONS

Must play light tanks, medium tanks, or artillery

World War II mode: Available to Tiers V - X

Cold War mode: Available to all Eras

Available to multiplayer only

Available once per contract signing


SpyGlass: Stage 7
GOALS

Detect 50 or more vehicles in any number of battles

Assist with spotting damage totaling at least 7,000 in any number of battles

Earn 50,400 or more XP in any number of battles

RESTRICTIONS

Must play light tanks, medium tanks, or artillery

World War II mode: Available to Tiers VI - X

Cold War mode: Available to all Eras

Available to multiplayer only

Available once per contract signing
SpyGlass: Stage 8
GOALS

Earn 96,000 or more XP in any number of battles

RESTRICTIONS

Must play light tanks, medium tanks, or artillery

World War II mode: Available to Tiers VI - X

Cold War mode: Available to all Eras

Available to multiplayer only

Available once per contract signing
SpyGlass: Stage Buyout Amounts
Stage 1 – 25 Gold
Stage 2 – 50 Gold
Stage 3 –  100 Gold
Stage 4 – 190 Gold
Stage 5 – 370 Gold
Stage 6 – 715 Gold
Stage 7 – 1,385 Gold
Stage 8 – 2,670 Gold