In World of Tanks Modern Armor, you can customize the tanks you own with cosmetics (including Camouflage and Skins), Equipment, and more.
But you can also customize the garage space where your tanks are stored!
Three different garage settings are available. To select one, whenever you're in the garage outside of a match, press the Start or Options button, depending on your console, and go to "Garage Options." The garage you choose will be the one you see no matter which game mode you play, but you can switch to another garage later.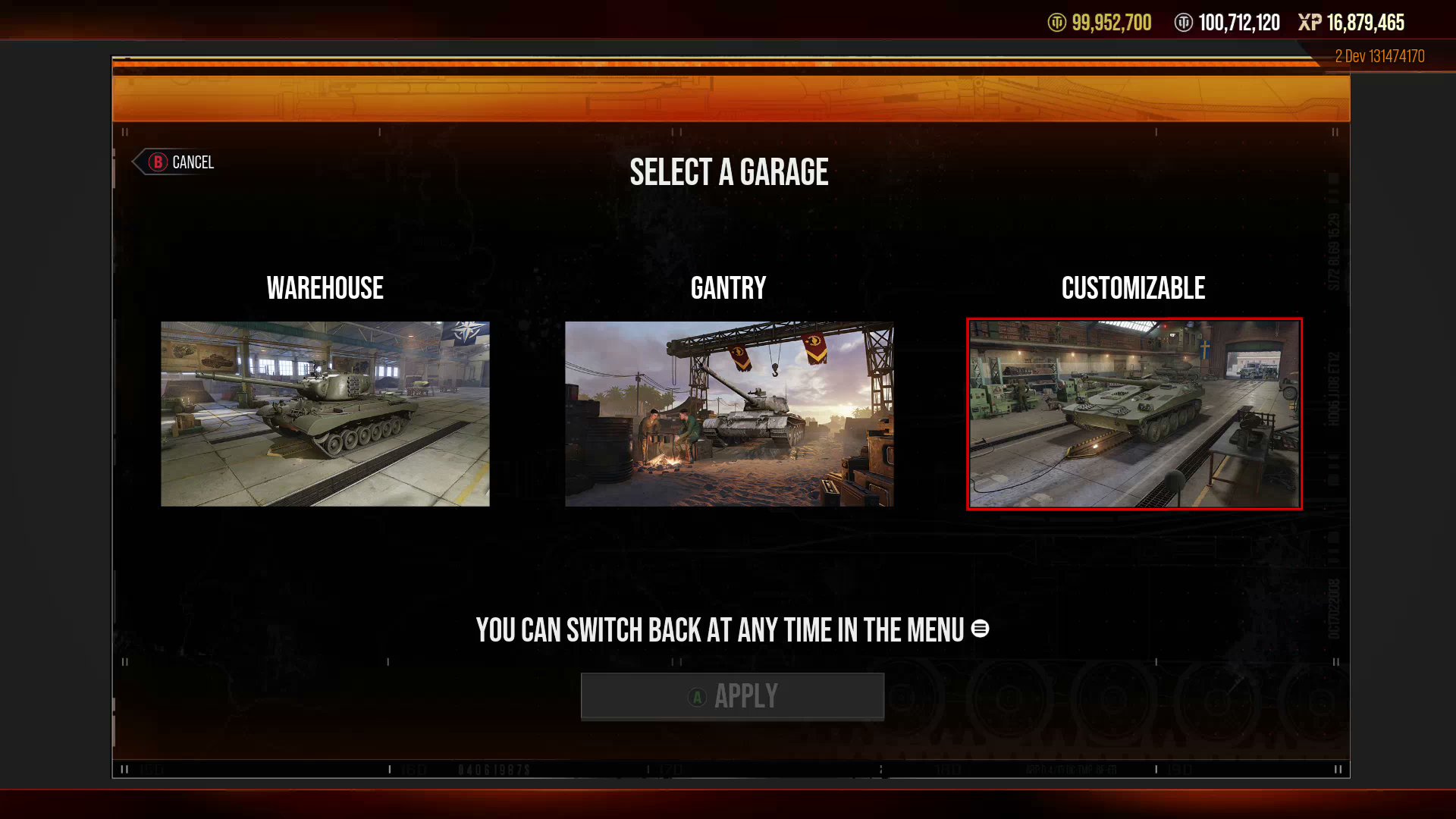 Regardless of the setting you choose, there's another option available within your garage: the option to see a garage tank reel ad letting you know about current special discounts on Premium tanks. This option is found in Menu -> Settings -> Options and is set to "Opt-In" by default.
The Customizable Garage
Introduced with the Soldiers of Fortune season, the Customizable Garage is an indoor space that you can enhance and personalize not only with tanks from your collection but also with gear like ammo racks, seasonal items, and yes, even pets to create a space that's truly your own.
To get started arranging your Customizable Garage, press down on your controller's D-pad any time you're in the garage to enter "Customize Garage" mode.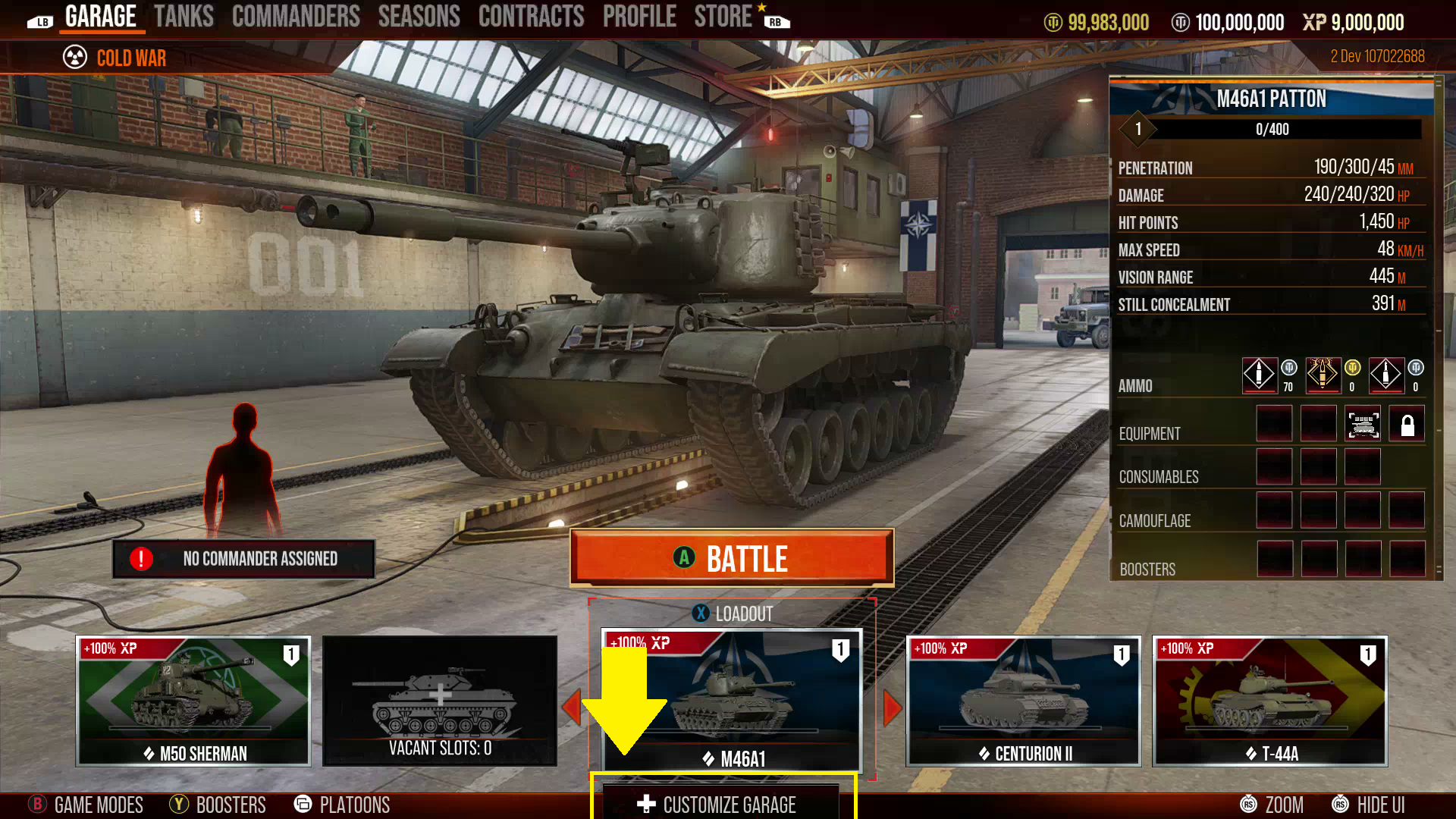 Once there, you'll see three tabs on your screen's top navigation menu:
The Customize Tab is where you can view, move, or put away (stow) the gear in your Customizable Garage.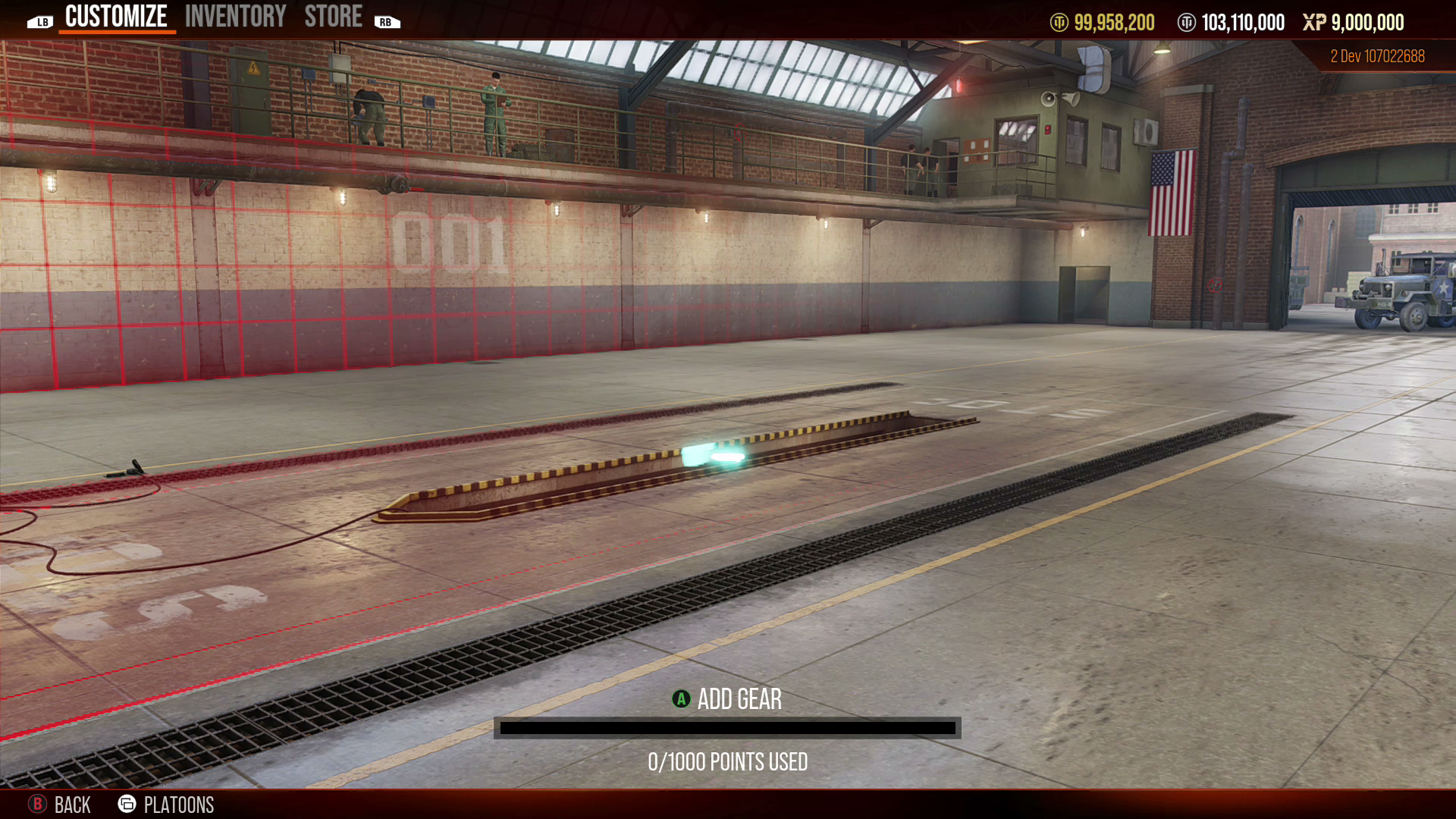 The Inventory Tab lists the gear you own. Next to each item's name in the list, you'll see a display that will inform you of the number of that piece of gear you own and have not yet placed in the garage, followed by the total number of that gear you own.
A small icon next to the Inventory Tab will let you know when you've acquired new gear.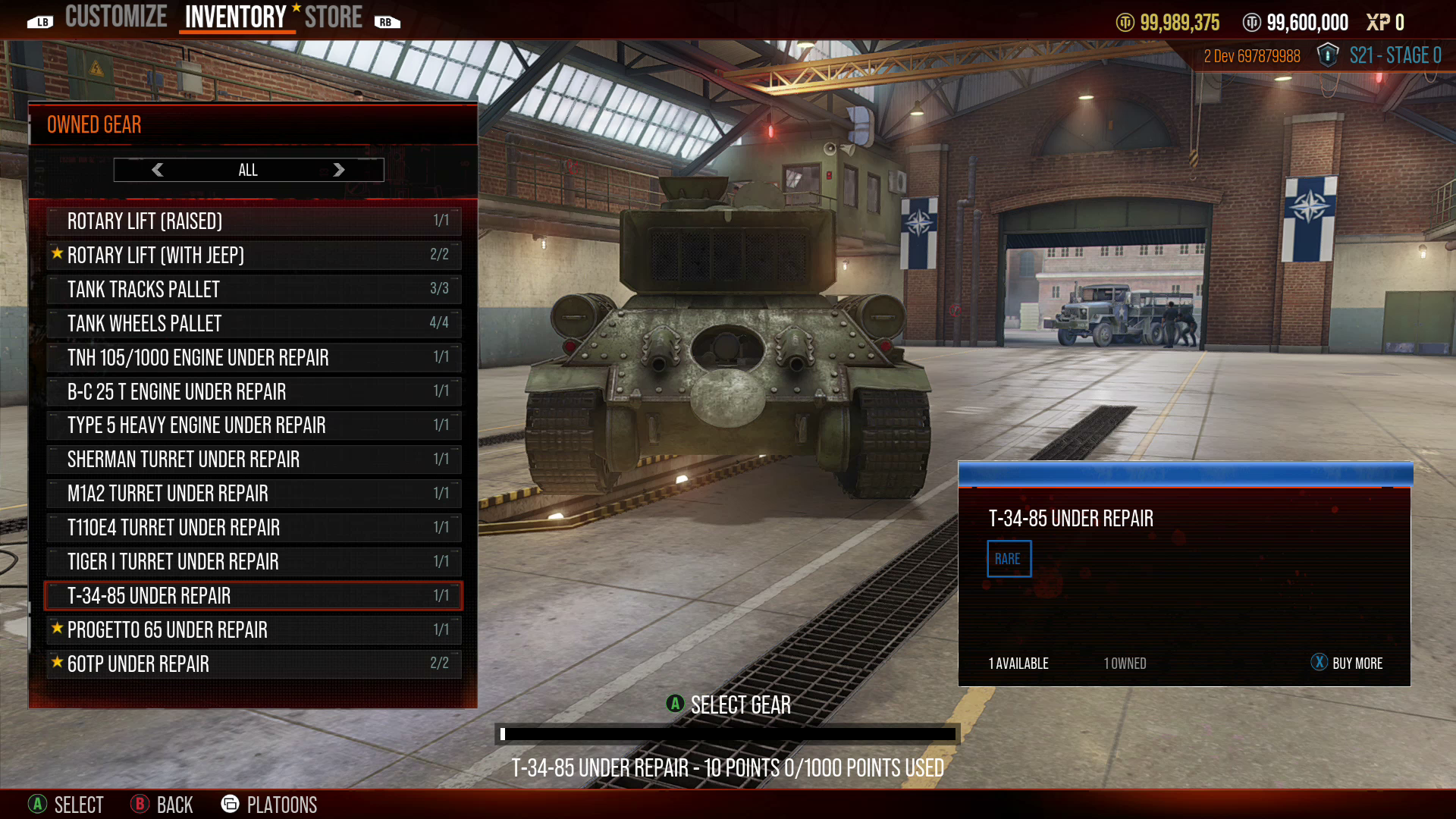 And of course, the Store Tab is where you can go to purchase gear.
You'll find some items available for Silver and others for Gold. Additionally, you can get gear as Challenge rewards, season rewards, or War Chest drops. No matter how you acquire it, every item you get will be stored on your Inventory Tab and will be an item you own permanently.
One special piece of gear you'll see on the Store Tab is the Tank Showcase. This allows you to display ANY of the tanks you own in your garage (don't worry, you can still take it into battle, too!). If the tank selected has Camouflage, Cosmetics, Marks of Excellence (MoE), or any other customizations you've made on it, these will be displayed on the tank.
You can display up to four of your tanks in the Customizable Garage at a time. Each tank you want to display will require a separate purchase of Tank Showcase. However, once you've purchased Tank Showcase, you can change the tank displayed in that spot at any time.
Customizing Your Garage: How to Place Gear
Once you've gotten some gear in your inventory, you'll be able to place it in your Customizable Garage!
First, from your Inventory Tab, move the cursor to highlight the gear you want to place and press Select. You can also be taken to your inventory menu by pressing the "Add Gear" button from the Customize Tab.
Next, navigate to the Customize Tab, use the right thumbstick to highlight the gear, and press Select. Your controls will help you find the perfect way to place it:
The right thumbstick controls the camera.
The left thumbstick moves the gear.
The triggers control the rotation of the gear.
Gear can be placed in almost any spot on the garage floor, but it cannot clip through walls or be placed where the tank selected in your Tank Reel or your Commanders would be present. If your gear can't be placed in the current location, it will appear with a red outline, and you won't be able to place that item there.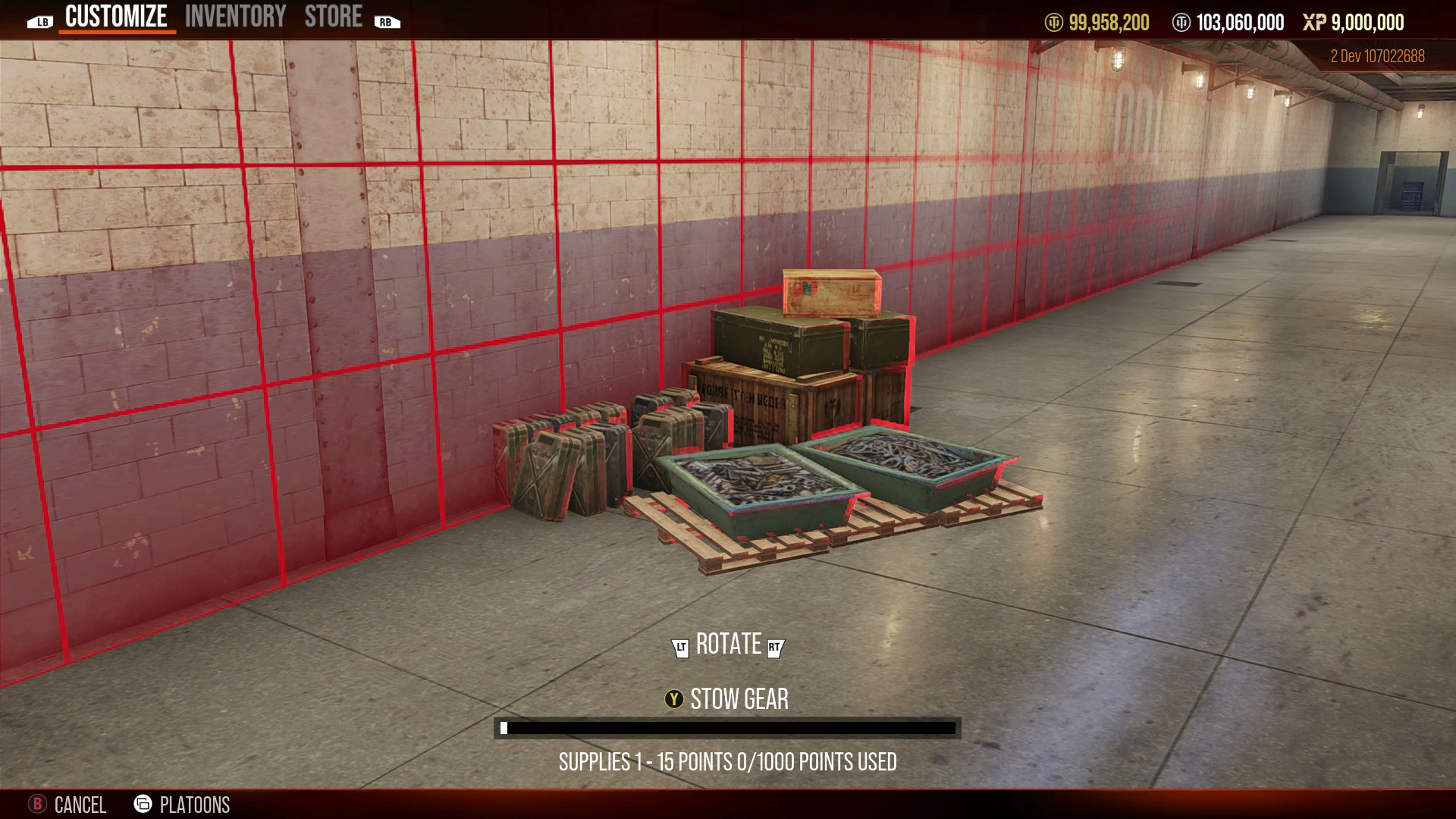 The Customizable Garage has a point system that determines how many items can be placed. Each piece of gear has its own point value, and a bar at the bottom of the screen will show you how many points your current setup uses out of the total number allowed.
Gear is not permanently placed and can be moved at any time by selecting an item again in the Customize Tab. Selecting "Stow" will remove the gear from your garage and put it back in your inventory.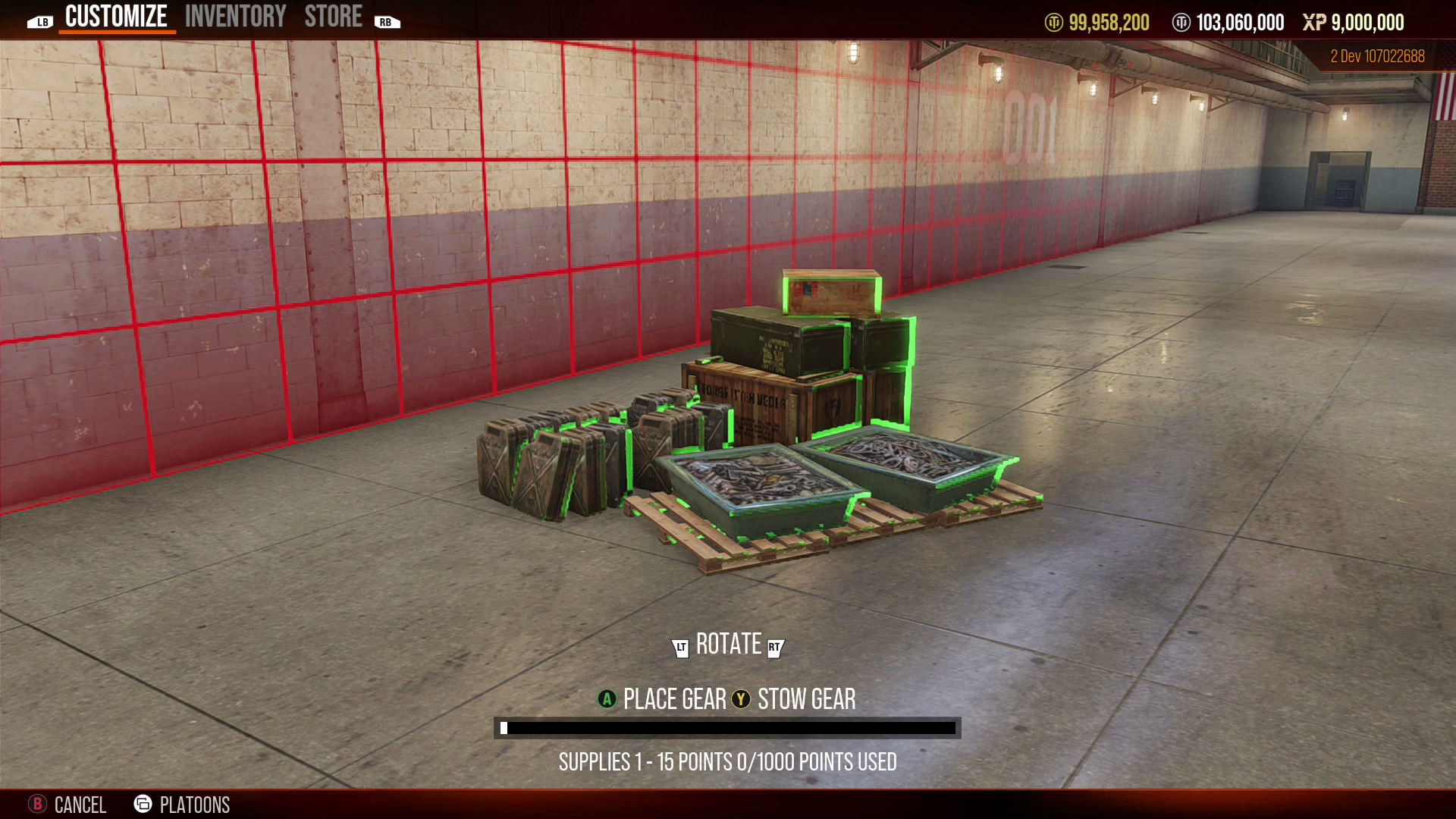 What will you create with the space you have? The garage is yours to build out, Commander!